The minivacation is now over. I've transitioned into full on vacation mode.
But the early results are in and the mini vacation was a great success.
And since my mini vacation was purchased solely on points and a tiny bit of cash it seems worth revisiting.
Although I'm no big fan of the blogging genre that involves endless reviews of various business and first-class experiences purchased with points, this was my first such experience, so I hope that I can bring fresh a perspective.
The coach flight on Air Canada from Portland to Vancouver was no big deal. It was a coach experience on an Air Canada commuter prop plane that lasted a little more than an hour. And so I will skip it.
I arrived at Vancouver international airport at 8:30 in the evening. One nice detail about my journey was that I'd checked two bags all the way through to Osaka which meant that I didn't have to to deal with luggage for the whole of my journey. All I had was a backpack with a few books inside of it. I was unencumbered and free to explore.
A quick pass through customs and I was out on the arrivals deck where I flagged a cab.
My driver was a pleasant Pakistani fellow. He told me that there was good Pakistani food to be had in Surrey, a suburb of Vancouver. This was actionable intelligence that I have filed away for later use.
About 10 minutes and $20 Canadian later I arrived at the strip mall that houses my favorite Shanghainese restaurant, Chen's Shanghai in Richmond, British Columbia.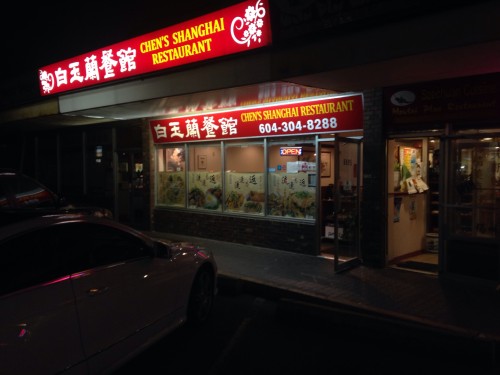 I walked in the door and was welcomed by a sea of fluorescent lights, cheap furniture, and The type of brisk subdued customer service that tells you that you're in the right sort of a place to eat a great Chinese meal.
I quickly perused the menu over a cup of oolong tea, and selected the following.
Item 1: Beef rolls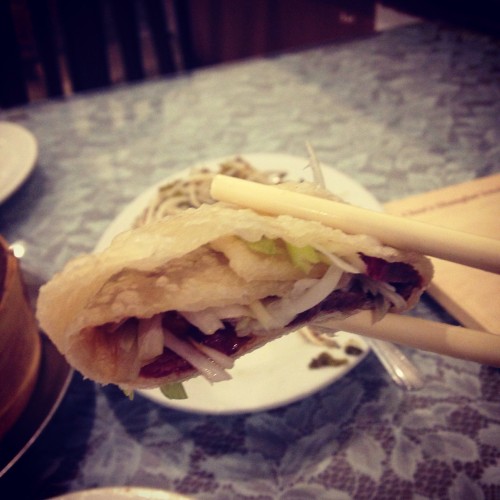 These are little Crisp yet supple bubbly pancakey sheets wrapped burrito style around slices of soft thin slices of long braised beef, an abundance of julienned crunchy green onion blades, and a healthy slather of hoisin sauce.
I love the textural aspect of this dish. The slight sandpapery microbubbles of the wrap that conceal the tenderness of its inner layers when your teeth Pierce it. The aromatic freshness of the Grass like shards of scallion, and the supple softness and beefiness of the sliced meat.
What I don't love about this dish is the flavor dominance of the hoisin sauce. It's too reminiscent of Mushu pork. It tastes fine, but it's a taste that I can easily purchase in the form of a two dollar squeeze bottle from the local Chinese supermarket.
Item 2: Rice cake with pork and snow cabbage.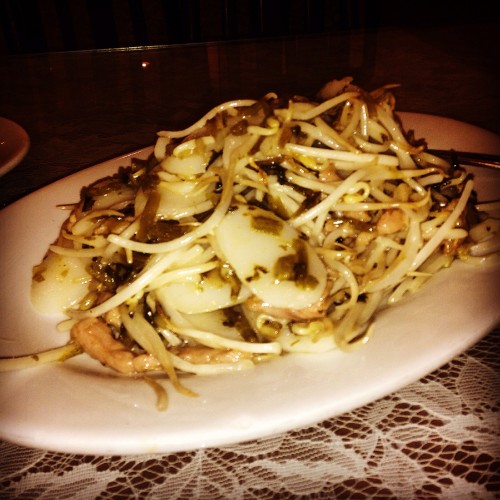 This was an unforced error on my part. What I had meant to order with the dish that we enjoyed a few years back when we visited Vancouver as a family. In that dish was a similarly named Stirfried rice cake with shredded pork.
That dish was flash fried in a hot wok and had a wonderful smokiness and crispiness to it.
In the dish that I ordered The oblong rice disks were treated more as a chewy pasta smothered in an aromatic and slightly thickened sauce.
Don't misunderstood. It was delicious and I ate every last morsel of it, it just wasn't what I was planning to order.
But back to the dish: I love Shanghai rice cake dishes because they remind me of Japanese mochi, a chewy cake made from glutinous rice pounded out.
In this dish the little disks of chewy goodness are interspersed with a Sea of fresh bean sprouts, crunchy little elements of pickled mustard greens, and morsels of tender pork in a savory cornstarch thickened sauce.
Item number three: XLB (xiao long bao)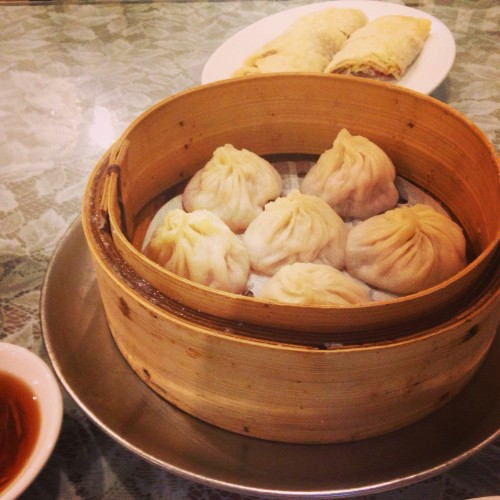 Also known as juicy pork dumplings, XLB form the third leg of the sacred dining trilogy (along with neo-neapolitan pizza and sashimi ) known simply as "the world's most delicious foods according to yours truly."
They are molecular Gastronomy stripped of all its false pretense. They're not at all new age because they've probably been around for more than 2000 years.
They are perfect.  And if you've never tried them, strongly consider burning some of your miles on a flight to Vancouver to sample them.  (Not kidding.)
What they are is this: a delicate little steamed dumpling skin that contains a globe of seasoned pork in an explosive pocket of hot and juicy pork broth. It is a dumpling as a water balloon (in a good way.)
And Chen's Shanghai's version of XLB is the best that I've had. They pass all of the tests with flying colors. The skin is both thin enough to be translucent and strong enough not to pop under the tremendous pressure exerted by its liquid contents. The meat is both perfectly seasoned and swimming in a broth of Porky essence.
I've read about a version of pea soup at one of the three Michelin-starred restaurants in France. It was described as tasting of nothing more than the very essence of peas perfectly realized. And while I am no big fan of fancy food I would love to try a bowl or two of that soup.
The XLB at Chen's Shanghai comes very close to this imagined ideal. It is nothing more than an explosive and juicy expression of perfect porkiness.
But being a foodie is not all triumph and victory. And I'm not just talking about the weight/health effects.
There's a definite perversity to loving food as much as I do. For I found myself leaving Chen's Shanghai not just sated and dwelling on the amazing dishes that I had just eaten, but making myself a bit crazy thinking about all of the dishes that I had not eaten.
And I'm not just talking about the stirfried rice cake with shredded pork that I failed to order.
I mean look at this menu: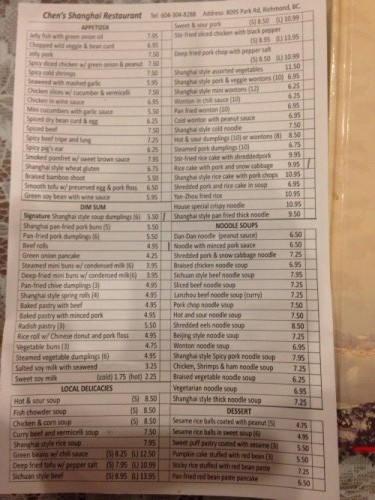 There is something called pork floss!  I have no idea what it is but I'm pretty sure it's delicious, and I desperately want to try it. But when will I find myself back in Vancouver?
(Don't be surprised if my next flight to Hawaii routes through Canada.)