I've written before that pursuing financial independence, and pursuing early retirement are not necessarily the same thing.
If you love your job (as I do,) then the point at which you reach financial independence need not necessarily be the point at which you stop working. It can simply be the point at which you may stop working should you so wish to.
But even in dream jobs, there are days at work when early retirement looks very appetizing indeed.
The professional baseball player who strikes out to end the playoff game with two runners in scoring position.
The successful movie director saddled with working with an unreasonable diva for 14 straight hours each day.
And for me, yesterday was just such a day. Nothing terrible happened. No one died or was injured. But it was just a steady stream of pages, and consults, and procedures, and surprise procedures, and curbside consults, and phone calls, and more pages that left me exhausted, 15 hours after starting my day, alone in the dictation room tying up loose ends.
It occurred to me at that point, that if every day were like yesterday, I would be motivated to become even more extreme in my saving habits, and to kick my savings percentage up to 75% at minimum.
And as I lay down on my couch at 10 o'clock at night to dictate the days musings, my iPhone ended up on my chest and somehow I drifted off to sleep.
So here I am this morning lying again on my couch, with some odds and ends to tie up for this past month.
First, the weigh in.
The VB6 experiment continues to go well from a satisfaction standpoint.
This was the month that I:
Discovered that refined grains were possibly addictive substances.
Discovered that (Ironically) I was possibly developing an apple addiction.
Began to notice that my tastes have changed for the healthier perhaps a little bit even after six.
Began to feel a little bit lighter on my feet and more energetic.
Continued to feel little sense of deprivation for the things that I could not eat before six.
Realized just how much more healthful my diet had become with a dramatic shift towards a more plant-based, non-processed, whole foods diet. I would estimate that this makes up about 75% of my diet now, as opposed to about 25% before VB6.
But you don't really care about any of that do you?
You're like a cliquey teenage cheerleader, hoping your fellow squad member will eat a little bit too much at Thanksgiving and develop some love handles. Admit it.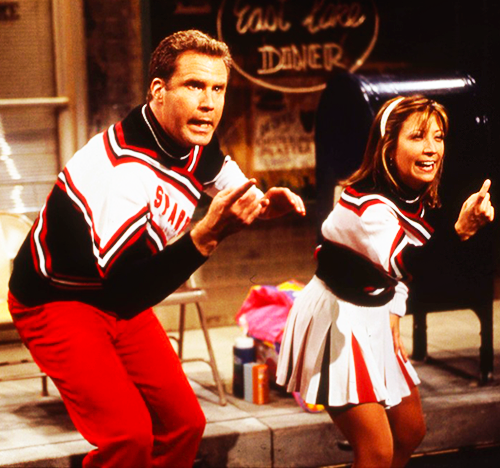 But you can never take my winning spirit.
So fair enough. The raw data.
At my weigh in this morning I weighed 200.5 pounds.
So that's one and a half pounds down from my weigh in last month.(And 3.5 pounds total in two months.)
And so the get thin slowly experiment continues on at least for another month…
Yesterday also concluded my second month of blind tasting all of my wine.
Here then are the results.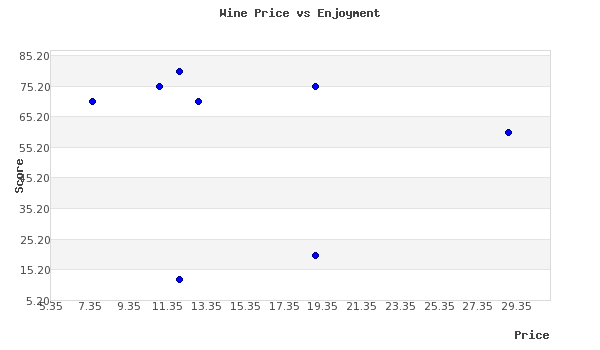 So all in all another scattergram. No clear correlation between price and my enjoyment of wine while blind tasting.
Interestingly the only wine I repeated this month was the Tresa Frappato from last month, and it again scored the highest (and identically ((phew)).
This is not an amazing wine, but it is a very good one. So if you like light bodied red Burgundies or Oregon Pinots, I strongly recommend you run out and buy a bottle. It's a lovely food wine that pares well with lighter dishes like pasta, roasted chicken, and fatty fish.
And on an unscientific note, there's also the wine that I enjoyed last night. Unblinded.
It was a 1985 Chateau de Cayrou Cahors.
And it was absolutely lovely. It was medium bodied, suave, with lovely red fruit. And it had a nice long finish reminiscent of black cherry juice. Just gorgeous.
And the reason why this is relevant to the blog?
This was one of the more expensive bottles of wine I have purchased. I got it several years ago for about 60 bucks.
And it sat in my wine cellar waiting for the right occasion for me to drink it.
Birthdays and anniversaries passed, and still it went undrunk.
And last night I drank it with my mom (Mrs. Two Buck Chuck) who is visiting from San Francisco, at the end of a hard work day, with zero ceremony.
Which I think is an paradoxical and unexpected byproduct of my conversion to the early retirement way of life.
Now that I spend less time fetishizing luxury, I am freer to simply enjoy expensive and rare things without all of the baggage.