This blogging is a personal thing.
Now I believe that the value of investing preferentially in your own freedom and getting great deals on travel are near universal truths, but the fact remains that this is a blog from a very specific perspective.  My own.  And I happen to be a middle-aged family man who is also a doctor.
The miles game changes when you have kids, because travel changes.
Travel used to mean something very different when I was in college.
It used to be all about seeing as much as possible. Extracting as much fun as could be extracted, and constantly moving.
I distinctly remember being 20 and waking up early one morning on an Rome to Paris train. I was horribly hung over from the night before with a vice like headache. But suddenly outside the window there was a stunningly clear, bubbling Swiss brook the likes of which I had never seen. I absorbed it in a dream like state, then scrounged around in my backpack for some ibuprofen, took a few with a swig of warm Coke and then promptly closed my eyes and went back to sleep.
Then vacation was like a scavenger hunt for fun.
I placed very little emphasis on comfort, and an awful lot of emphasis on extreme experiences.
There's that old expression about youth being wasted on the young. And boy do I think that expression applies to The Miles Game. Not because the young cannot enjoy The Miles Game, but because I'm kicking myself for not having partaken in it when I was younger.
Once you have kids, travel changes. If your kids aren't happy, then you certainly aren't happy. So pools become much more important. Swimming more and driving less are good rules of thumb.
And flying becomes more of a hassle with all of the car seats and strollers and tired or sleeping kids, Simple itineraries become  things of beauty. Less time on planes becomes more time in pools.
And when you've got a family of five like I do, it takes an awful lot of miles to get just about anywhere.
Consider our upcoming summer trip to Japan. Just to get the five of us there by economy on saver level tickets would cost us 325,000 miles.
But what if it had been me and my wife in our younger years with 325,000 American Airlines Aadvantage Miles?
Those same miles would've given us a couple of international first class seats to and from Japan (plus or minus a stopover in Europe).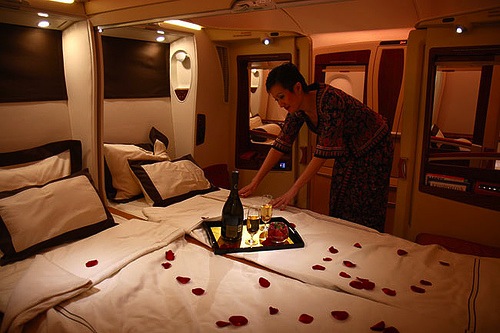 Our seats in an alternate universe
That would've been fun.
And I still get trapped sometimes thinking about travel from my old mindset.
I start to concoct complex itineraries in business class with open jaws and stopovers in multiple continents, until my wife calmly points out how crazy I'm being and paints me a realistic picture of what it would actually be like to be with a pack of jetlagged kids stumbling through Frankfurt at three in the morning, Portland time.
But I recently had to shorten my Japan vacation time for work reasons and make some travel changes to my upcoming trip.
So I'll be traveling alone to Kyoto after the rest of my family.
The upside was that I only had one half of one ticket to rebook. No kids.
So it was a bit of an opportunity for me to placate my inner entitled college student.
I could plan an itinerary just for me, and this is what I settled on.
Sunday evening, 7:00: fly from Portland Oregon to Vancouver, British Columbia economy class. Arrive at 8:15.
Sunday Night, 8:45 to 11:00PM take a cab into Richmond BC and eat at my favorite soup dumpling place ever, Chen's Shanghai.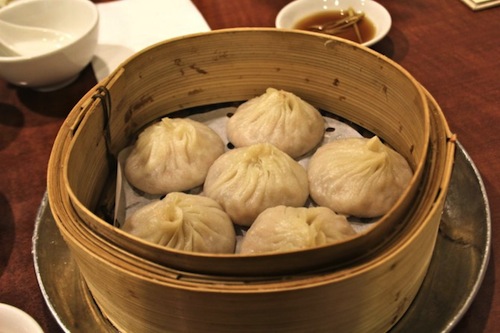 Why I'm stopping over in BC
Monday morning, 2:00 AM: flight from Vancouver to Taipei on EVA Airlines business class. This is my first time booking business-class, so I'm really excited about it. EVA is supposed to have an excellent business-class product with fully flat seats and above average food. My goal here, however, will be to sleep most of the flight. I will arrive at 5:30 AM in Taipei.
Monday morning, 6 AM: Hustle into Taipei for some sightseeing and some serious exploration of Taiwanese street food.
Monday afternoon, 2 PM: Fly EVA airlines business class Taipei to Osaka. I'll try to stay awake for this flight and really soak in the Business class atmosphere. Who knows when I'll get to do this again?
So there it is. My itinerary.
And for the first time I'm very excited for the air travel itself. (This had certainly not been the case flying economy from Portland to Osaka.)
I'm thinking it'll be like a mini-vacation before the actual vacation. Like finding the first item of the scavenger hunt before the hunt even begins.
And the whole thing cost 75,000 miles. Not a great deal because of United Airlines recent devaluation of their miles, but eminently achievable with one credit card application and a couple of months of "thoughtful"spending.
So if you're young and childless and you read this blog, all of this could be yours! In addition to being able to retire at a much younger age than I will be when I reach financial independence, you will be able to do much of your traveling in the meantime in the front of the plane, sipping Dom Perignon, and reclining to a fully flat position.
To each his own.