If you're looking to open a new investment account, in order to invest all of your additional savings from your newly frugal lifestyle, there are a multitude of options.
There is no chance that I could give a complete picture of all brokerage options.
I'm not going to even try.
What I will do is break down the options that I've personally considered for my own non-work related retirement accounts.
1. Vanguard. 
This is definitely the safe money choice.
Vanguard has so much going for it.
It is extremely trustworthy. Jack Bogle who started Vanguard actually invented the passive index fund.
He has incredible integrity, and so does his company.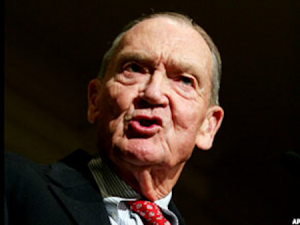 Jack Bogle:  Solid Dude
Consider that Vanguard is a not-for-profit investment company. This is a rare proposition. In addition all vanguard funds are owned in their entirety by the investors themselves. This really keeps the expense ratios down.
Consider that Vanguard is synonymous with "low cost." High praise to be sure, in my view.
Consider that Vanguard has a broad portfolio of fund choices, mostly passive, and almost entirely low-cost.
Consider that one could make a terrific slice and dice portfolio with Vanguard funds alone.
So what are the downsides?
If you want to keep your costs down in a Vanguard account you're pretty much limited to just Vanguard funds. And to be sure, there are some holes in the Vanguard portfolio. (Think international small cap value.)
And if you want to access the cheapest offered funds,  such as the Vanguard Admiral class funds, there are minimum investment amounts (usually on the order of $10,000 per fund selected.)
Furthermore Vanguard's philosophy is very conservative. And this is reflected in some of their funds makeup. Since they rely almost exclusively on capital weighted indices, this limits their ability to skew their funds aggressively towards the sector of interest. (As an example the Vanguard small-cap value fund is neither as small or as value-ey as the Guggenheim small-cap value ETF (RZV).
Finally you must remember to rebalance your portfolio regularly if you take this approach.
2. Betterment
This brokerage firm was covered in-depth in the post, "Do I bore you with my investment talk?"
To recap: I believe this to be the best option for people who do not want to deal with the details of investment theory and execution.
The downsides are that it is not customizable, and there is a nominal fee associated with your investment, above and beyond the individual fund expense ratios.
That being said, even with the fee it is a very cheap option, the fund mix is well designed, and automatic continuous rebalancing is executed to perfection.  In other words the additional cost is both minimal, and money well spent.
3. Motif***
This is kind of a hybrid between the Betterment and Vanguard approaches.
The beauty of this site is that you can custom make your own portfolio from the entire universe of exchange traded funds. You are not limited to any one fund company to keep your costs down (Vanguard ) and you're not dependent on someone else to design your asset allocation strategy for you (Betterment.)
If you only rebalance once a year, this service should cost you about $10 additional a year total, regardless of the total dollar amount invested.  Thats cheap.
The downside is that there is a (small) fee, and you must remember to rebalance your funds yourself on a regular basis. This is not a set it and forget it product (like Betterment).
Personally I've gone with a mixture of Motif and Betterment and am very happy with both products. But I can completely understand why others would choose to go the Vanguard route.
Disclosure: If you open a Motif account through the above link I will get a referral bonus and you will get 100 $ deposited into your account for investments above 2000$.
If you have another brokerage that you use and are happy with, please leave comments below.