Once you've decided to play the miles game, all you really have to do to get started on your journey is to take that all important first step.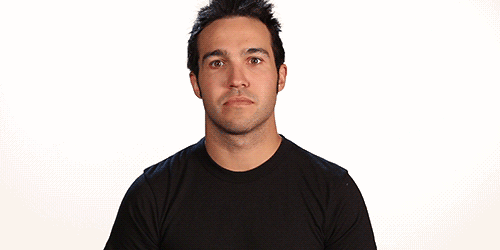 Dont freak out…I've got you covered…
But where to begin? The array of Credit card choices out there (fortunately) can be overwhelming.
Well I'd like to think there's a method to my madness.  And it goes a little something like this….
I focus on the most valuable currencies and the biggest bonuses first.
To me value is determined by the flexibility of the points currency earned, the sheer number of bonus points being offered, the ability to eventually use the points without paying fuel surcharges, and the ability to avoid yearly fees.
Off the top of my head, my ranking of points currencies listed in the descending order of value (with the most valuable Currencies listed first) is: AMEX Starpoints, Chase ultimate rewards points, AMEX membership rewards points, American airlines Aadvantage miles, US airways Dividend Miles, United Miles, Citi thank you points, Southwest miles
For a more complete listing of loyalty currency values, at this point in time, see here.
Because Chase has so many excellent cards, I do apply for one business and one personal Chase card each round of applications.
I Avoid applying for more than one business and one personal card from a single bank per churn.
So those are my objectives each time I plan a churn.
But how to go about execution? How to decide which cards are the best available out there.
Let's review the Miles Game flowsheet that lays out the process for building up your miles balance quickly.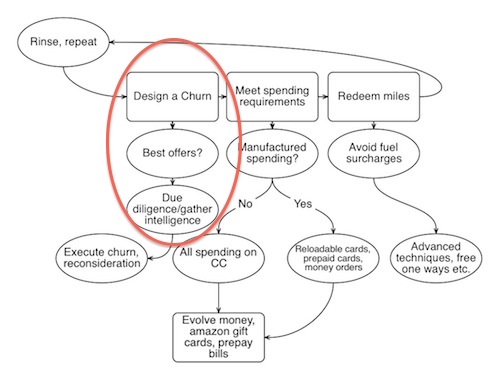 Guess which part we'll cover in this post…
If you want to do it yourself**, you really need only two tools, a link aggregator, and the latest information from the flyertalk chat rooms.
For my money the best link aggregator this one which belongs to frequent miler. He keeps it quite up-to-date, and consistently links to the best available offer whether or not it is his own affiliate link.
Once I have found the cards that I want to apply for, I then search for each card on the flyer talk credit card forums.
As an example if I wanted to apply for the Chase Sapphire preferred card, I would do a Google search for "flyer talk Chase Sapphire preferred."
The reason that I tend to do this is that there is often a wiki at the start of each thread  that gives the latest information on the best bonuses for each card. I also usually peruse the last few posts in the thread to make sure that nothing has changed recently in terms of credit card approvals or available bonuses.
So with all that being said if I were to start playing the miles game today what would my first churn consist of?
It would probably look something like this:
Chase Sapphire preferred: 40,000 ultimate rewards points
Chase ink bold, 50,000 ultimate rewards points
Citi platinum select Aadvantage world MasterCard: 50,000 American airlines advantage miles.
Citi business Aadvantage world MasterCard: 50,000 American airlines Aadvantage miles.
Starwood preferred Guest credit card from American Express: 25,000 starpoints
Barclaycard US airways premier world MasterCard: 40,000 US airways dividend miles.
Next in the series we will talk about what to expect when you execute your first credit card churn…
** If you still want some help getting started, Brad from Richmondsavers.com has an excellent free travel rewards coaching service that is highly recommended.
Please leave comments and questions below…