The miles game marches on . It's almost biblical, really. (To every season churn churn churn.)
Personally, I'm getting ready for another round of credit card churning.
The experiment with getting one or two cards every month didn't last long, (about 30 days to be precise.)  The main reason is that the rate limiting step in credit card churning is waiting 90 days in between Chase card applications.
Chase has most of the best credit card products for miles enthusiasts,and it's not even close. (Also there was a temporary deeper dip in the credit card scores)
As always there are a few new developments in the miles game to be shared. So I thought I would both share the news flashes, as well as run my upcoming card churn by you, my readers.
First the news.
As The Ink…Dries?
Chase ink plus has a limited time 70,000 mile sign-up bonus.
This is as good as it's ever been for a sign-up bonus offer on this credit card.
(For the record this is my favorite credit card. It more than pays for itself by giving you five times points back on Internet, cable, and phone bills, not to mention Amazon gift cards purchased at office supply stores)
The floor on the value of travel to be had with this card is really $700 or $800. Realistically it's more like $1400 or $1500.
This offer is important for two reasons.
1. If you don't have this card yet now is the time to apply.
And
2. If you have recently applied for this card, you should send a secure message to Chase asking them to credit your account with an additional 20,000 miles upon reaching your sign up bonus spending requirements.
It is worth noting that the $95 per year fee is not waived on this card, while it usually is with the standard 50,000 mile bonus offer.
The second bit of news is also Chase ink related. But it has to do with the Chase ink bold card which is the charge card version of the card.
Apparently the Ink Bold card will be phased out of existence in mid-November. So if you don't have this card yet, now is the time to apply for the standard 50,000 mile bonus offer with the $95 yearly fee waived.
Cash Advance False Alarm
Frequent miler reported this week that suspicious charges were showing up for serve card loads using Chase credit cards.
Apparently the reload was initially being coded on the credit card bill as a cash advance.
Fortunately after a day or two it was coded as a simple purchase (meaning no cash advance charges).
This reinforces the wisdom of always setting your cash advance limit to zero when you activate your credit cards.
Walgreens Surprise.
To me , Walgreens has long been the most disappointing location in the manufactured spending game.
In this neck of the woods, Walgreens is the dominant player in drugstores.
When vanilla reloads were all the rage Walgreens had them in spades. Unfortunately the cash registers were hardcoded not to allow credit card purchase. It was always so tantalizing yet disappointing.
On a whim, however, while picking up fluoride tablets for my children, I decided to try to buy PayPal my cash cards using my credit card at Walgreens. Shockingly it worked!
It just goes to show you, it never hurts to try.
Bonus Info. Unrelated. Anecdotal. Apropos Nothing.
A brilliant whole food desert.
I had this at a block party (hat tip to Dana) a couple of weeks ago and am now officially hooked.
Step 1: take a medjool date, tear it in two, remove pit.
Step 2: Take a pecan half (or two) and stuff it where the date's pit used to be on both halves.
Step 3: Pop it in your mouth.
It's like a deconstructed pecan pie. Addicting I tell you!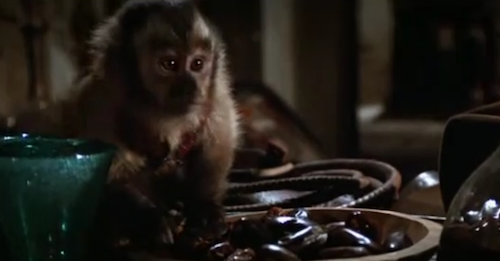 But don't take Indiana Jones' Dates, monkey.
Back to the task at hand.
The Last Low Hanging Fruit…
Quick reminder.
Amazon payments person-to-person payments will officially sign off October 12th.
Don't forget to hit it hard. (It's like drinking to Amazonia's posterity… it's your duty really.)
Upcoming Churn.
1. Chase Ink Bold:
70,000 Ultimate rewards points for $5000 in spending in first three months.
$95 yearly fee not waived.
(I already have one of these, but was invited to apply again using my website tax ID. I don't know if it will work it's worth a try.)
2. Chase Hyatt Visa Signature Card:
Two free nights plus platinum status for $1000 spend in the first three months.
$75 fee waived the first year.
3. American Express Business Platinum Card.
100,000 membership rewards points for 10,000 dollars spend in the first three months. $200 statement credit for airline incidentals.
$450 fee not waived for first year.
4. Citibank Thank You Premier Card.
50,000 thank you points for $2000 spend in the first three months and $3000 spend in the first three months of year 2.
(Year 2 $125 fee not waived.)
5. Club Carlson Premier Rewards Visa Signature.
85,000 Club Carlson points after $2500 spent in the first three months. $75 annual fee not waived.
6. Barclay'S Us Airways Premier World Mastercard.
40,000 US airways miles after first purchase. $89 annual fee not waived.
7. Capital One Venture Rewards.
40,000 points after $3000 spent in the first three months.
$59 annual fee waved.
So what do you think?
260,000 airlines miles? 5 hotel nights? $400 in travel cash?
$24,500 in manufactured spending in 3 months?
Have I lost my marbles?
Don't answer that….but please do leave comments and suggestions below.