The miles game really is a very simple series of  steps. No more skills are required to get this outsized value than the ability to do a little bit of Internet research, a smattering of computer data entry, and a touch of organization.
In my last post in this series we discussed planning for your first churn.
At this point you should have chosen a travel goal and figured out which points are the most valuable to you. You should have sifted through the best available credit card bonuses out there and selected 6 to 8 cards that are the object of your desire.
So where are we now?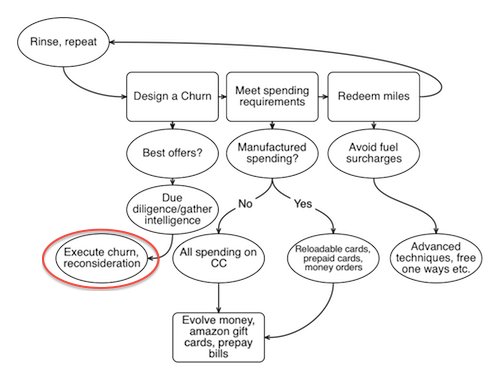 (Time to fish or cut bait)
That's right, this post is all about execution. It is about taking the fleeting concepts floating around the credit card arbitrage conceptual universe and turning them into cold hard miles (that will eventually place you in a nearly free but soft airline seat, flying somewhere exciting.)
If I were to break down the execution of a credit card churn into a little flowchart, it would look something like this: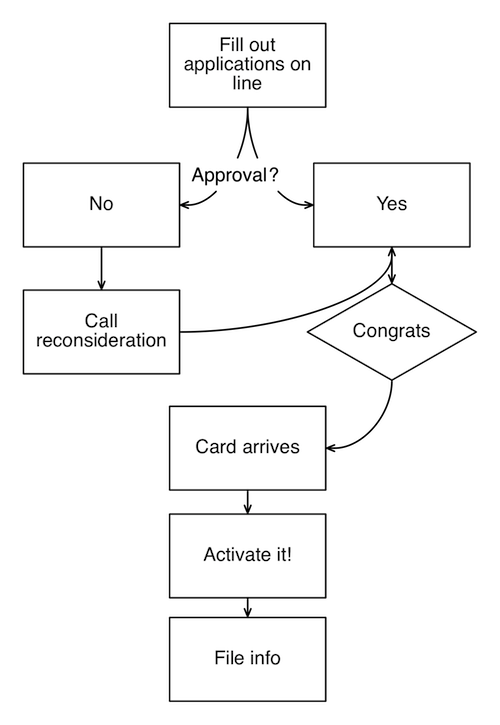 So let's start at the beginning.
Filling out applications.
Nothing magical here. In the old days you could get approval for multiple cards from the same bank by simultaneously filing applications in different browsers at the exact same time  But now you can't.  (So just serially fill out the applications you are interested in and click "submit.")
After filling out the applications you will probably get instant approval on 1 to 2 cards, and  "pending" messages on the remaining ones.  Don't despair.
Calling reconsideration lines.
Rejection is part of the game.  Don't wait. Call the reconsideration departments and do it right away.
Here is a post I wrote with tips on calling the reconsideration lines, complete with useful phone numbers.
( Cliff's Notes: call in, be cordial and offer to move some credit line around, and if the agent on the other end of the line is unhelpful, politely hang up and call back again.)
Activating your cards.
Aside from just calling the number to activate the card, it is wise to talk to an agent and do all of the following when your card arrives.
Set the cash advance limit to zero. (this is a way to avoid fees when "creatively" spending money on your new credit cards.)
Set up automatic monthly payments. (This is a way to avoid ever paying late fees or interest.)
Confirm the timeframe and the amount of the signing bonus and the required spending to reach it.
Set up your online account for the new card (or add the new card to an existing online account.)
Get organized.
(Any of my family members or former teachers would find it hilarious that I'm writing about how to get organized, but I do do this each time I complete a churn.
If you like pen and paper use that, if you like your smart phone use that, if Excel spreadsheets are your weapons of choice, by all means…
Record the date of your applications.
List all of the cards you have applied for.
List the card bonus requirements and bonus amounts
List the yearly fees.
File your account passwords in a cryptic manner  (instead of "Miles"  I use "M1l3s" as my login.  Hint: "1" looks like an "i" and 3 looks like an "e"  Pretty clever no?*
And that's pretty much it. At that point it is time to go out and earn some miles…
But that's a story for another day.
*My mom was alarmed that I divulged my login info on the internet.  I didn't…..  It was a joke, Mom.