My minivacation before my vacation was a unique opportunity offered to me by my hobby, the miles game.
Without the miles game I never would've flown business-class to multiple cities in order to work in a bit of free traveling on my way to Japan.
Without understanding the rules of routing, I would not have understood my options even if someone had given me the miles.
My time in Taipei was particularly memorable for me because it reminded me of traveling in my early 20s and late teens.
I was kidless, with a small backpack, and no itinerary.
I didn't speak the language, and I really had no clue what I wanted to do (aside from eating something delicious.)
So as I disembarked from business class at five in the morning in Taipei I really didn't know what to expect.
I made my way through security and out into the international airport.
I had it in my mind to take a bus into the city so I found a section of the airport with 15 or 20 small kiosks offering various bus options.
I communicated somehow with multiple tellers and ended up purchasing a bus ticket into central Taipei. It cost two dollars.
I was lucky enough, while waiting for the bus, to meet a fellow American who lived in Taipei. Not only this but he ended up being a "quant" who blogged about quantitative trading strategies involving futures trading of The VIX volatility Index. Great guy and super interesting. Here is his quant mashup website if you're interested. It's highly recommended!
We struck up a conversation and he was nice enough to guide me into central Taipei and give me an early game plan. For my five hours in the foreign city I would first seek out the Chang Kai-shek Memorial, a larger-than-life piece of communist memorial architecture. And from there I would find my way towards either The original Din Tai Fung (The mothership of world's most famous soup dumpling chain) or on to some other Taiwanese delicacy.
As we got off the bus he took me as far as the subway station and helped me to purchase a subway token which would get me to the Chang Kai-shek memorial.
Taipei has an excellent subway system that was very easy to navigate. And at about 6 AM I found myself at the at the station for not yet opened Chang Kai-shek memorial.
Before hitting the tourist site, I found my way into a little food mall with multiple small stalls. There were seafood places, butchers, Taiwanese charcuterie shops, and produce fenders. There were stalls that seem to sell nothing other than strange nuts and dried fruit and berries.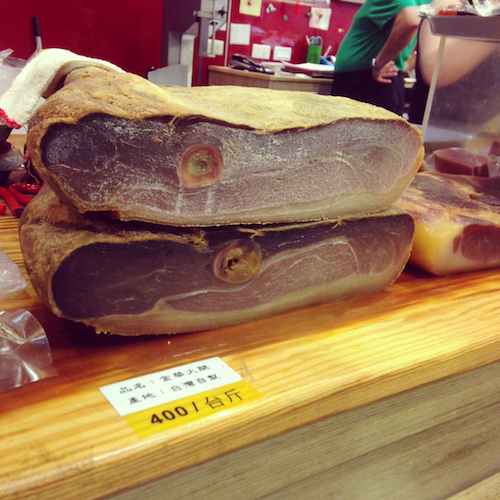 Funky Taiwanese Prosciutto.  Note to self: good name for a band?
 I stumbled around and took in all of the interesting sites (and funky smells). I didn't buy anything other then a nice large Fuji apple from a produce fender. Interestingly, when I asked him how much the Apple was he replied "hachi- ju"or 80 yuan in Japanese. How he knew I spoke Japanese I will never know.
It was still early-morning in Taipei and I walked around the large square at the Chang Kai-shek memorial. I really had nowhere to go and no immediate goals so I felt somewhat listless and unanchored. But I must've done about seven laps around the oversized Square. I took in some strange sites including an old Taiwanese gentleman doing exuberant and rubbery looking calisthenics at the top of the chain Kai-shek memorial steps.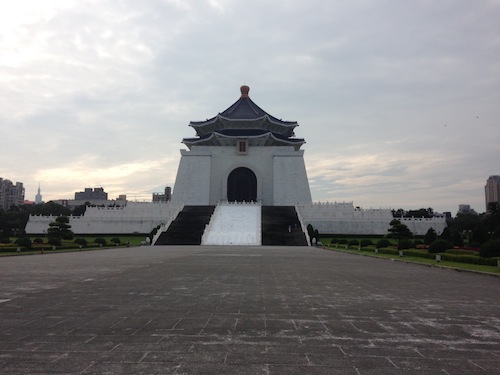 An imposing (and decaying) display of communist grandeur
Eventually I found a little area with free Taipei Wi-Fi near the subway station. I did some research on breakfast options and decided to try to find a Taiwanese breakfast place after reading this inspiring article.
I made my way to the subway station and tried to figure out how to get to that breakfast place.
I showed the station agent a picture of the place in the yelp review on my iPhone. He was kind enough to call up the place and figure out which subway station I needed to get to which turned out to be Daan station.
It's quite humbling to try to figure out how to get somewhere in a city you don't know, where the locals speak a language you don't understand, but this is one of my favorite parts about traveling. Being disoriented and ill-equipped to get myself around, I am always surprised at how helpful and generous people are. Someone always seems to help me out. And being way outside of my own comfort zone is always quite thrilling in a way.
In any case, I found my way to the correct station and walked the couple blocks south to the restaurant.
It was bustling on a Tuesday morning. It was kind of an informal open air sort of a place with businessmen, and fathers and daughters, and grandmothers out for shopping, all grabbing a quick bite.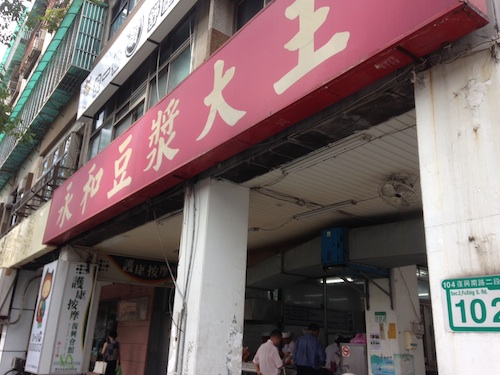 Right on the sidewalk there was a guy hand cutting slabs of dough for a quick fry in hot oil. Another gent was rolling out, forming, and griddling sesame studded pancakes on a circular flattop.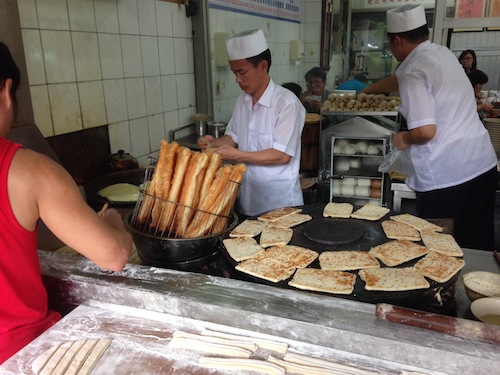 I made my way in and ordered and this is what I got: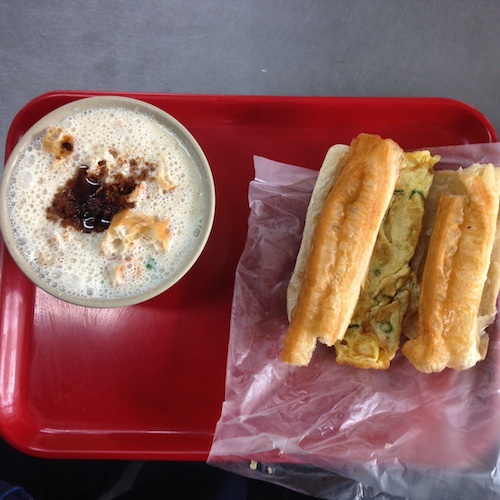 The thing on the left is a bowl of "salty soymilk". This is kind of a soy milk soup with little Curdey bits of tofu floating around in it. Into it the cooks throw a handful of pickles and chopped green onions and a few little pieces of Chinese donut along with a generous dollop of a fragrant vinegar. It was a revelation. Definitely one of the best things I've ever eaten for breakfast.
The thing on the right is a supercharged carbo-gut bomb. It is a flaky and sesame studded roti like pancake wrapped around two salty Chinese donuts and a freshly griddled Omelette. It was definitely not vegan before six. And it was definitely worth breaking my own dietary rules to partake. Everything was fresh and crispy and delicious.
At that point and after a brief walk around the neighborhood, it was after 10 and it was time for me to make my way back to the airport so that I could be there two hours prior to my departure.
I grabbed a cab back to the airport for about 30 bucks and made my way into the airport.
Once through security hunkered down in the EVA business class lounge. Where I recharged my phone, had a cup of coffee, and took a shower! Unfortunately I did not have a change of clothes in my little backpack. But it felt great to shower and shave.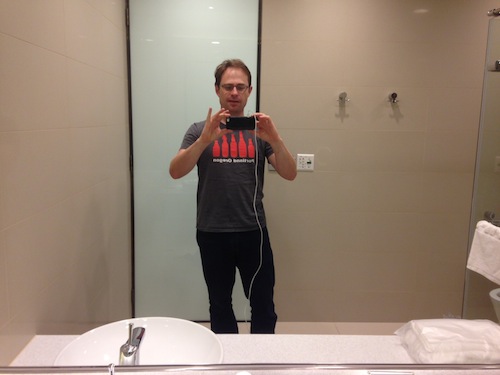 Before…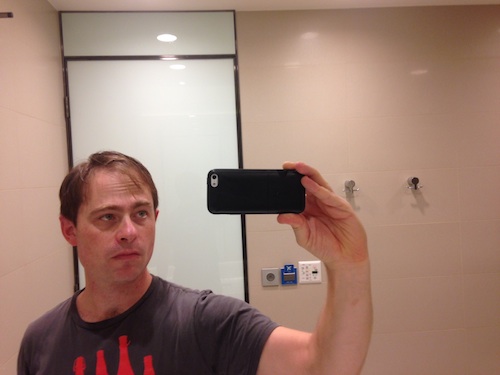 and after
All in all it was a wonderful little excursion that allowed me to get a brief taste of Taipei and have a unique meal.
My sense is that Taipei is a real foodie city and at some point I want to go back for a week or so to check out the night markets and the interesting restaurants that the city has to offer.
Thanks to the miles game, I'm pretty sure that someday I will.