So a month has passed since I proclaimed my intention to try the Vegan Before Six experiment.
I talked about the philosophy behind VB6, and why it was appealing to me.
My understanding is less theoretical now. I've lived it for a month. And it's time for me to report back.
But first i'll surrender what you really came here for, the results.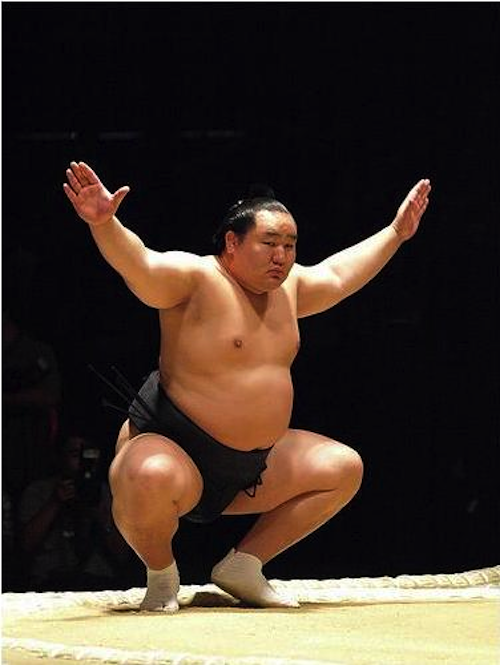 Before
Now I will admit that I look a lot like the Mongolian grand champion, sumo wrestler Asashōryū in this particular picture. But you'll just have to take my word for it, it was the light and the way I wore my hair that day for the New Year's ceremonies. Perhaps I was retaining a bit of salt as well.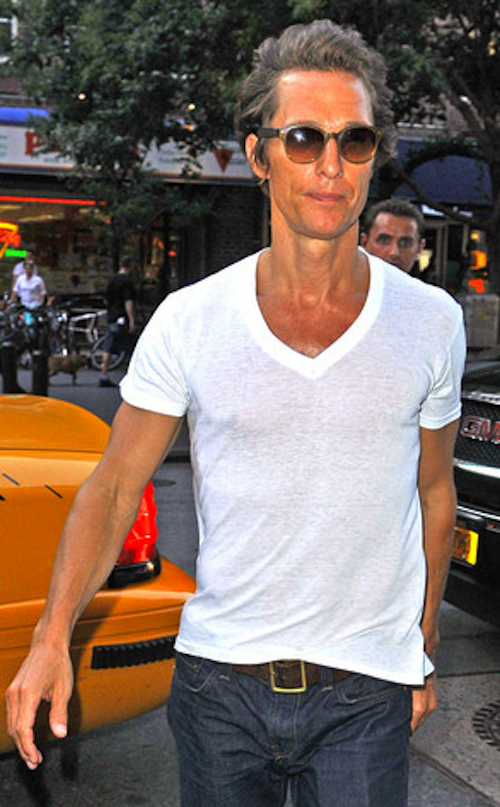 After 
I know, I know. In this picture I look a lot like a cachectic Matthew McConaughey playing the lawyer with AIDS wasting disease. I've just always looked really thin in V-neck tee shirts. But please don't worry about me. My health is good. I'm just a bit bonier now after losing 2 whole pounds from my first month on VB6.
Yes, you read that right.
I'm 2 pounds lighter now than I was when I started this little experiment a month ago.  I'm now 202 pounds of lean muscle and sinew…..
Now there are two ways of looking at that statement.
Honesty is something to aspire to, so let me give you my honest reaction when I stood on the scale today for the first time in a month to check on my progress.
It was something subtle along the lines of,
"Are you fucking kidding me?"
Or perhaps it was,
"I ate bushels of apples, kale, and quinoa, and this is the fucking thanks I get?"
But then I got to thinking…
There's another way of looking at that finding that goes something like this:
The appeal of VB6 is that:
1. It's not a diet, it's a lifestyle change.
2. I'm not counting calories or eliminating anything from my diet.
3. I'm still eating delicious food.  (Important.)
4. It's a healthier way of eating long-term.
5.  I can (and  do) still go out to dinner and eat anything I want.
And despite all that I still lost 2 pounds!
It's a get thin slowly scheme!  Yeah that's the ticket.
And If I keep on losing 2 pounds a month, I'll be at my college weight in about a year.
So the obvious question is will I continue with this experiment?
Is a measly 2 pounds lost a month worth completely changing my dietary paradigm?
But before I answer that, permit me the indulgence of turning on my retrospect-o-scope.
Here are 10 observations about VB6 after a month on the plan.
1. If it works at all, it works because of all the things I cannot eat before six. It's probably not that vegetable calories are different from animal calories, or that whole-grain calories different from refined grain calories. It's just that when you cut animal products and refined grains from your diet during the day, your dietary possibilities shrink dramatically. Donuts, crackers, cheese, bagels, muffins, chips, bread, pretzels, wings, pastries, these are the types of things that I'm likely to be tempted with on a daily basis at work. And I can't have any of them. I Have yet to be offered a vegan chia and edamame cluster by any of the CCU nurses.  (You know my pager number, ladies and gents….I'm standing by.)
2. A much greater proportion of my diet is vegetables and fruit now. Evidence suggests that that is a good thing.
3. My hunger is very different now that I don't eat refined grains during the day. Prior to VB6 hunger was often a panicky feeling in my stomach where I felt compelled to quickly devour carbohydrates (and a lot of them.) Now it's more of a sensation of emptiness in my stomach. No desperation.
4. Without desperate feelings of hunger, it's much easier to eat reasonable portions. This is even true after six when I'm allowed to eat whatever I want.
5. Apples and peanut butter make for a great breakfast. They are surprisingly filling and achieve a long-lasting feeling of fullness.
6. Searching out legal VB6 lunches is actually a lot of fun. I've eaten fantastic vegan Indian food, falafel, mushroom and chile tacos, vegan Panuchos topped with spicy pickled cabbage. Great stuff, and I'm just getting started.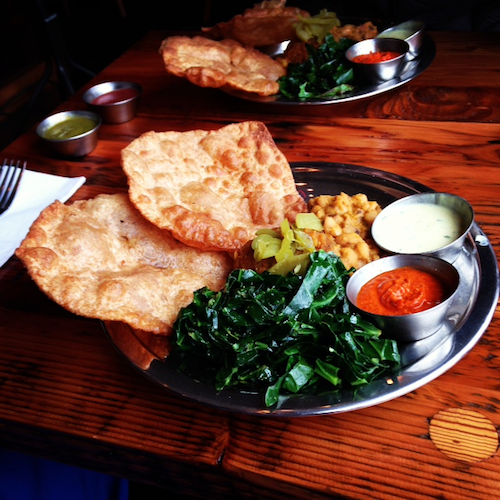 Drats: Another VB6 lunch of deprivation
7. I rarely feel sleepy after eating a VB6 breakfast or lunch.
8. Cooking VB6 is a lot of fun. I'm cooking with new ingredients (Farro, black-eyed peas, quinoa, wheat berries, silken tofu, the list goes on…) and the limited palette of available ingredients allows me to focus more on getting the most out of each ingredient.
9. Eating vegetables and fruits is a habit. Because I eat vegetables throughout the day and snack on things like apples and bananas,
I crave them more at night during dinner, and sometimes even after dinner.
10. Mark Bittman claims that if you eat beans frequently, their gas producing qualities will be attenuated. Sadly, I see no evidence of any such evolution in my own gastrointestinal tract.
So if the question is, am I going to continue with this little experiment?
The answer is, "Hell yes."
Even if I only lose 1 pound a month, it's completely worth it.
To this point, it's been the perfect dietary plan for a foodie like me.
What say you?  Am I deluding myself?  Weigh in below….(pun intended)