I had a great conversation today with Brad over at richmondsavers.com. He was kind enough to offer me some great advice on my plans to retrofit the architecture of this site.
As miles game geeks are wont to do, we of course got to talking about credit card offers, and manufactured spending, and the whole thing.
And Brad, who's just starting to partake in the manufactured spending part of the game, once again confirmed my suspicion that it really sounds much more difficult than it is in practice.
What our conversation also reminded me of, however, was that I have not spent much time talking about the final step of manufactured spending: unloading your Bluebird.
As you can see on this familiar flowchart, there are really three possible ways to unload your Bluebird.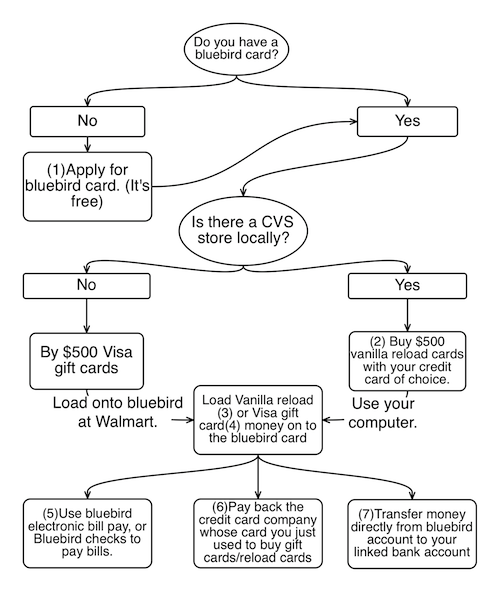 Option 1  (5 in flowchart) is to use the Bluebird bill pay service to pay your bills.
This is fairly intuitive, and not unlike using any online banking application to pay bills.
Here's a nice link that goes into the details of how to use Bluebird Billpay.
The advantage of this approach is that it is quite intuitive. You're essentially using Bluebird as a slightly modified checking account.
This is probably why this was the first approach that I used.
The disadvantages are:
It's tough to pay bills higher than $5000.
You're left with uneven amounts in your bluebird account that are not particularly easy to use
You miss out on the convenience of recurrent payments through your online checking account.
It's a little bit more complicated to keep track of your money. (I.e. you may find yourself wondering, "did I pay that bill with my bluebird account or my bank account or my wife's Bluebird account?")
The second option (6 in flowchart) is to use your bluebird account to pay back your credit card for the gift cards that you just bought that same day. 
This was the second method that I used.
The advantages of this method are:
It is simple.
You don't carry high balances on your credit cards that can temporarily damage your credit rating by increasing the credit utilization ratio.
The disadvantages of this method are:
It may seem a little bit sketchy at first, since you're not actually paying bills from Bluebird. You're just offsetting bills that you can't pay by credit card with a closed circle of manufactured spend.
It's still a little tough to keep track of your payments.
There are bugs in Bluebird payments that make it possible to pay the wrong payee.
Yes, you read that right.
I discovered this hiccup last week when I tried to pay Chase, and after I clicked on my Chase Sapphire Preferred credit cards links in Bill pay, I was brought to a page to pay my accountant!
This bug was confirmed later in this post from frequent miler.
Which brings me to…
The third option, (7 in flowchart) which is to transfer your Bluebird money directly to your linked bank account.
This is my new favorite method because:
It is simple.
You can continue to pay your bills from online banking or automatic debit (however you were doing it before.)
It is easy to keep track of your bill paying activity since all bills are paid from the same source (your bank account).
And this is how you do it: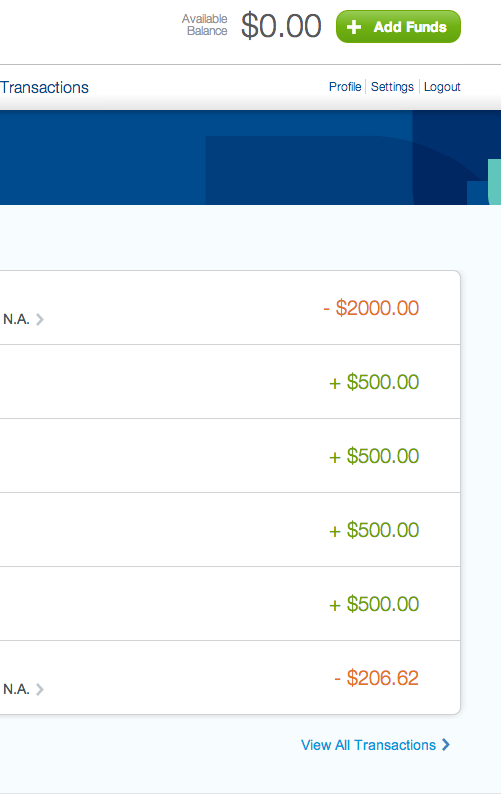 Step 1:  Click on "settings" (upper righthand corner under green "add funds.")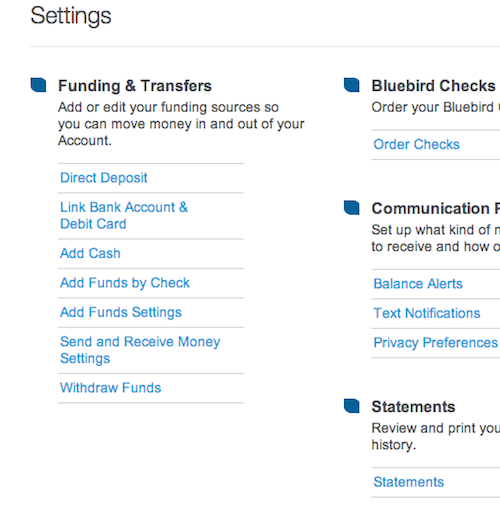 Step 2: Click on Withdraw Funds  (Bottom left)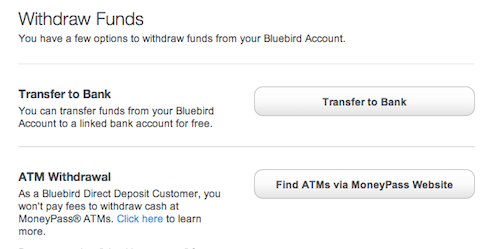 Step 3: Click on " Transfer to Bank."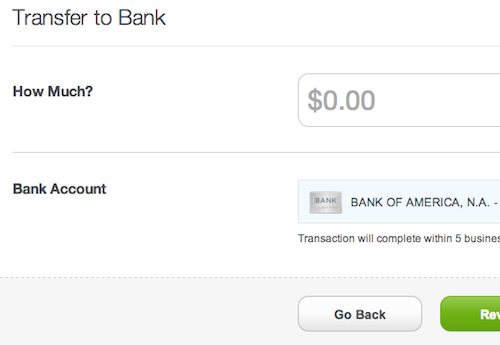 Step 4:  Enter amount to transfer in "how much" box, then click on green "review"  (screenshot truncated to protect personal info.)
And that's it.  In 2-5 days the money will be in your linked Bank account.
Easy peasy lemon squeezy.