In general I enjoy writing about ideas and philosophy more than writing nitty-gritty tutorials about how to do something.
But I firmly believe that The Miles Game is a great and even motivating skill set for someone with the propensity to pursue financial independence.
And more than a few of my readers and friends have been asking me for some advice on how to load their Bluebirds without Vanilla Reloads.
So who am I not to share my approach?
We've already discussed the sad demise of the Vanilla Reload angle at CVS stores.
It's a painful end for some. But it's far from a mortal blow to The Miles Game. This game is constantly changing. One door closes and another one opens.  Diversification of technique is always healthy.
So if you've been offsetting your spending with Vanilla reloads purchased with credit cards at CVS stores and loaded onto your Bluebird via computer, and now don't know what to do, this post is for you.
As a background,I've been consistently achieving at least $10,000 in credit card spending a month for the past nine months or so, in order to offset my spending on taxes, insurance, mortgage, etc.
And for almost all of this time it has been without the benefit of being able to purchase vanilla reloads.
And this is how I do it.
Step 1:  Go to a drug store or supermarket and purchase $4000 and Visa gift cards with credit cards.
Pretty much any visa gift card will work, but some require you to set a pin by phone before loading them at Walmart. Which is kind of a hassle.
The two cards I purchase most often are Vanilla Visas and OneVanillas both of which have their pin set the first time you use them. Very convenient for our purposes.
And they look like this: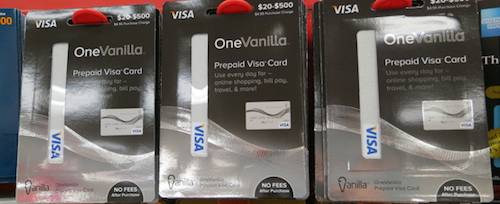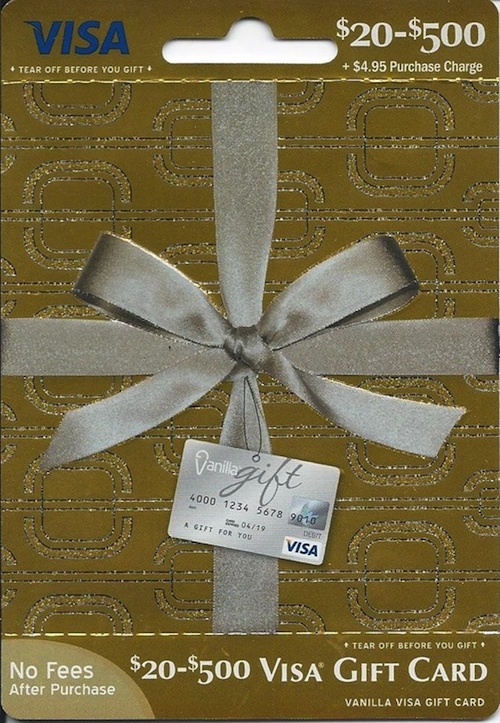 Step 2: Drive to the dreaded Walmart And arrive at about 8:45 PM Pacific standard time.
Step 3: go to either the Money Center or Customer Service and politely say "I would like to load my Bluebird via debit card" to the customer service agent.
(If there is a functioning Walmart money machine you can also do it automatically without interacting with humanity. Bonus. But in my experience these ATMs are only at the particularly heinous Super Walmarts and are usually broken.)
Stay focused.  This is the crucial step. Sometimes an overzealous employee or manager will tell you there is a policy against loading your Bluebird with a PIN enabled gift card.
There is no such policy but this can be very frustrating.  Arguing is generally fruitless and will only make you more memorable next time.
My usual approach is to politely say "thank you" and try my luck another day.
Thankfully this is usually not the case and I usually load my Bluebird without any difficulty at all. $1000 onto my card, and $1000 onto my wife's.
It's also worth noting that you are doing absolutely nothing wrong by loading your Bluebird in this manner.
You have bought your gift cards legally and have paid fees to do so.
And you're loading your Bluebird via debit card as explicitly allowed in their terms of service.
You are not stealing anything.
You are not committing fraud.
You are doing nothing illegal.
So stay relaxed. Knowing you are in the right will allow you to handle whatever social pressure you may feel with dignity and aplomb.
And sometimes the customer service agent may just ask you why you're loading so much money on to your Bluebird with gift cards?
My usual approach here is just to be honest.
I say, "I use my Bluebird to pay my bills so that I can pay for all of my bills with credit cards and earn more miles and points."
I see no reason to lie or evade this question. It demystifies your atypical behavior for the customer service agent. And more importantly, it's true.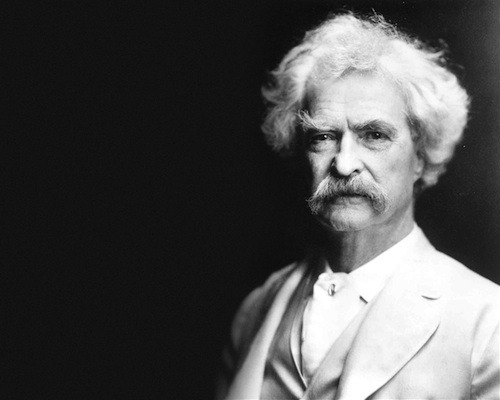 "If you tell the truth, you don't have to remember anything."
Good point Mark.
Step 4: wait until 9 o'clock Pacific time (12 o'clock eastern time) when the Bluebird Day turns over. (you can only load $1000 onto a Bluebird/day)
Step 5: repeat step three.
Step 6: two days later repeat steps 1-5. 
Step 7: two days later repeat steps one through three (Only buy $2000 instead of $4000 worth of gift cards as you can only load of $5000 onto each Bluebird per month.)
And that's pretty much it. $10,000 loaded over about 2 to 3 hours total over five days.
Some generals tips for starting out.
Start out small until you get the feel for it. Better to be stuck with $500 worth of gift cards that you can't load onto your Bluebird than $4000.
Never buy a greater denomination of gift cards than you can afford to be without for 1 to 2 months. Sometimes something goes wrong with gift cards. (This has happened to me twice.) But as long as you have your receipts, you will get your money back eventually.
If you can't afford to be without $4000 for 1 to 2 months and want to play the miles game, then use that as a motivation to save up $4-$6000 in a savings account. This financial habit will serve you well regardless.
You can unload up to $1000 in gift cards a month via Amazon payments for free. (You should do this too.)
You can also reportedly use gift cards to pay bills for free via evolvemoney.com. (no personal experience here so caveat emptor)
And if it all sounds like too much of a  hassle, then it probably is. If you don't enjoy this type of game, its better to pursue something that you truly enjoy doing. Life is too short.
But if you like a challenge and are keen to learn a new skill, I highly recommend it. In addition to being very fun it is also quite lucrative and conducive to saving your money for important purchases. Like freedom.