I'm someone who tends to dive right in. If I'm interested in something I'm really interested, really fast.
Some might term it obsessive. Some throw the term "manic" around all too loosely. But there's no getting around the facts. That's just the way I was built.
The point being that I've dived right into quite a few hobbies already.
A few short months after taking up golf I was literally walking around a closed golf course in the middle of a Chicago winter with a parka, ski hat and ski pants on hitting a frozen ball 20 yards down the fairway at a time. My record was playing in -10° windchill. (No exaggeration.)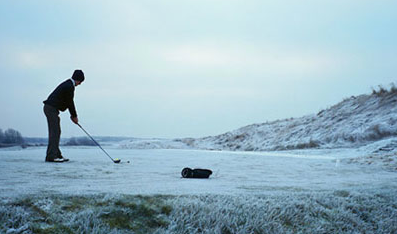 Fair Weather Golfer
Shortly after getting into wine, I found myself driving all over the Los Angeles area going to wine shop after wine shop attending wine tasting's so that I could taste as many different varietals in as short a time as possible.
And within a week of discovering the miles game I had already completed my first six card credit card churn.
The point being, I know how get lost in something.
Speaking from experience, when you submerge yourself in a new obsession, at first the world you're entering seems strange and unknowable. But after a short time it feels like old hat.
During this transformation it's very easy to forget your original motivation for getting into the obsession in the first place.
Such was the case with the miles game.
I got into the miles game because I was horrified that I had to spend eight thousand dollars to fly my family to Japan to visit my in-laws.
I was even more horrified that this was to be an ever more expensive yearly occurrence for the rest of my life.  I felt like I was committing to throwing a wood burning pizza oven away every year for the rest of my life.
So I dug in.
But after a short time my horizons changed.
I forgot that the reason why I had originally wanted miles was so that I could avoid spending money on a necessity.
I read review after review of Singapore Airlines Suites Class, and Cathay Pacific first class, and the temperature of the Dom Perignon offered in EVA first class, and all of a sudden flying coach was beneath me!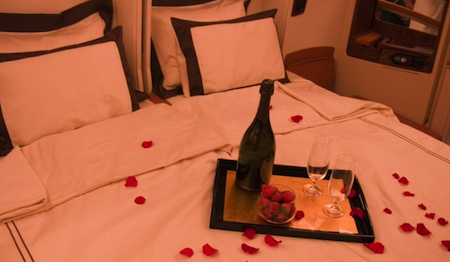 Improperly Strewn Rose Petals in Singapore Suites
All of the bloggers that I read seemed to be obsessed with status. In this cloistered world it made sense to fly coach from Seattle to Timbuktu simply to accumulate enough qualifying miles to achieve executive platinum status on United Airlines.
And the scary thing is, it started to make sense to me.
Which is not to say that it does not make sense for some people. Say you're a travel blogger who earns your salary by reviewing airline service all over the world. For that guy a little status goes along way.
But for me it makes zero sense. The only time status is worth pursuing personally, is if it comes with a low, low-cost, like a simple credit card application, or a silly Internet trick.
I'm sure I'll sample the luxury of flying first and business class products at some point soon, but I now know that that's truly not my focus.
To a travel blogger cents-per-mile-redeemed is of the utmost importance.
To me the dollar not spent is the most valuable asset. After all it's worth almost an hour of financial independence when you take into account compound interest….