One area that I've not focused much attention on, is that of hotel credit card sign-up bonuses.
The reason for this is simple; up to this point I have been solely focused on airline miles, and flexible points that will cover airfare.
I have exactly no hotel cobranded cards in my wallet. (Unless you count the Starwood preferred Guest business and personal cards, which I got primarily for their ability to transfer to Airline partners at a 1: 1.25 ratio)
But my neighbor's planning a trip to Europe for the summer, and asked me about hotel cards, which made me realize it's high time that I take a detailed look at what value is out there for the taking.
Up to this point my main strategy, has been to use cash equivalence point credit cards, such as the Barclaycard world arrival MasterCard points , to book my Hotel rooms, so that I can find a reasonable room, and pay myself back from my points balance.
The advantage of using a hotel specific company card, however, is similar to the advantage of using airline specific cards, over cash equivalence points.
The value is in getting luxury products for free.
I would likely never pay 900$/night for a fancy schmancy hotel room, but the right co-branded card can offer me two nights of such a room for free.
So let's take a look at what a hypothetical neighbor could do to subsidize his lodgings on a trip to Europe during the summer.
What follows is a sample six card churn meant to maximize Hotel savings on a European vacation during high season.
1. Chase Hyatt Visa Card
Annual fee: $75, not waived first year
Sign-up offer: Two free nights at any Hyatt property after spending $1000 in three months.
If you redeem this at a top tier Park Hyatt property, you will likely get about $1500 in value, minimum.
Two nights at the Park Hyatt Vendome in Paris anyone? To me that's well worth the $95 fee assuming you're making this trip anyway.
2. Club Carlson Premier Rewards Visa Signature Card.(As well as a business version)
Annual fee: $75 not waived first year.
Sign-up offer: 85,000 points after spending $2500 in 90 days.
After hitting your minimum spend bonus you will have 100,000 points to spend at any property.
This equates to two nights at any Club Carlson property.
Although Radisson hotels are not top-of-the-line, there are many great values.
Please read this excellent post from Lucky, which highlights 10 great values including properties in Paris and London.
The best part of this offer however, is that every second award night is free, which essentially means you get four free nights from this one sign-up bonus.
3. Citi Hilton Hhonors Reserve Card:
Annual fee: $95, not waived.
Sign-up bonus: Two free weekend nights at most Hilton properties, including the top of the line Conrad hotels.
It is again easy to get at least $1500 in value from this bonus, making the $95 fee a steal. The ubiquity of the Hilton chain also makes this a very flexible option.
That is so lame. That makes no sense.  Hiltons are, like,  free.  
4. Fairmont Visa Signature Credit Card. 
Annual fee: $95, waived the first year.
Sign-up offer: two nights at any Fairmont Hotel worldwide including breakfast, after $1000 of spend in the first three months.
This could be used for two nights at the London Fairmont.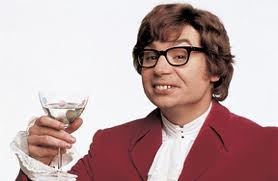 I'll drink to that, Baby.
5. Marriott Rewards Premier Credit Card
Annual fee: $85 waived the first year
Sign up offer: 50,000 points after $1000 in spending in three months. Plus one free night at up to a category 4 location.
This is pretty good value in general, but there are limited options in Europe.
6. Starwood Preferred Guest Credit Card From American Express. (as well as business version of same card)
Annual fee: $65, waved the the first year.
Sign-up offer: 25,000 Starpoints (Enough for 2 weekend nights at a category 4 for hotel.)
Although Starpoints are the most valuable flavor of points, I rank this low in the hotel discussion for a couple of reasons.
First, I would wait  to apply these cards until the summer when they usually have a 30,000 point offer (which I took advantage of last summer.)
In addition I think the real value in these cards comes from the ability to transfer them 20,000 miles at a time to Airline partners for 25,000 miles credit.
So there you have it: 14 free nights of hotel stays, including 7 free nights at top-of-the-line luxury hotels, for the low cost of 1 six card credit card churn, and $245 in year one annual fees.
Let's be very conservative and assume that my neighbors would only have spent $200 per night on hotel rooms for this European vacation (unlikely.)
This simple churn could save them $2555 (2800$ – 245$.)
If they were to invest this in the Vanguard total stock market fund, and assume a 7% return per year, then in 15 years (when, if we make smart decisions, we all should be able to retire,) The savings would be be worth over $7300!
That's an awful lot of shuffleboard.