Warning: This will be sort of a bits and pieces post.
You see I re-created the "highroller churn" for my wife last night and have a whole bunch of reconsideration calls to get to later tonight.
But there are some interesting tidbits that I think are worthy of your attention. And while these subjects do not necessarily merit whole blog posts in and of themselves, they just might provide some actionable intelligence for your own pursuit of miles wealth and happiness.
The first subject I've been meaning to get to is a review of tripit.com. This is a travel site that I was originally introduced to when I was approved for my Barclay's World Arrival Mastercard last year. That card comes with a free 1 year subscription to Tripit Pro.
Sadly, my year is up, and I'm far too much of a spendthrift to actually pay for the service.
But happily the really important parts of the application are available on the free version of Tripit.
Tripit solves a Nagging and annoying problem with travel in the digital age.
Although we are now able to search through a wealth of vendors in our quest for the cheapest and best plane tickets, hotel rooms, rental cars, etc., we are left with a hodgepodge of emails and confirmations that we must later organize in to a legible travel plan.
The plane ticket from Alaska, the rental car from the Ultimate Rewards Portal, and the hotel room from your winning bid on Priceline. They all exist in different parts of our email inbox and are tough to access precisely when you need the information.
With Tripit this organization actually becomes quite easy.
Every time you get a confirmation email from a purchase or a booking, you simply forward the email to your Tripit.com account and the site automatically organizes it chronologically in your inbox, by trip.
It looks like this.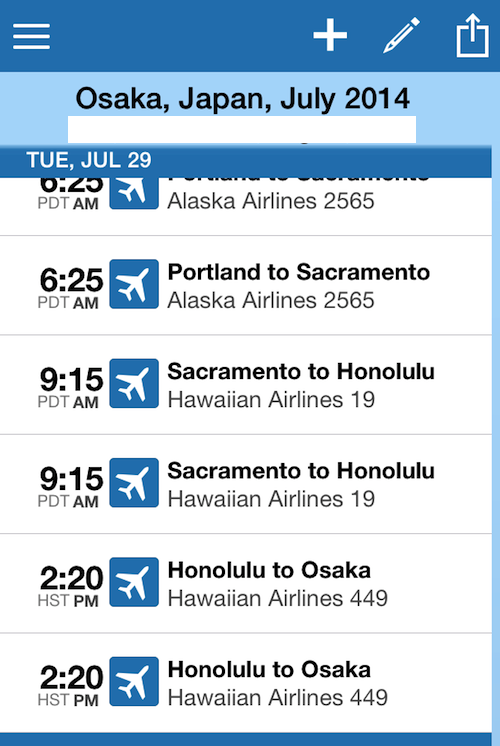 So when you're traveling all you need is your smart phone, and all of your information is beautifully organized. Just genius. A true modern marvel. And all for attractive price of free.
The second concept  that I wanted to share was from this article from hack my trip.
I think it's well worth clicking on the link and reading the article. But if you don't have the patience, the basic message is that there's no need to churn 6 to 8 credit cards at a time anymore.
Because credit checks essentially post instantly, Scott argues that you're no better off doing them all at once than you are spreading them out evenly over months and months. A couple cards in January… A couple cards in February… And so on.
And the advantages of spreading them out over months are obvious.
1. You can focus on small groups of spending requirements before moving on to the next offer.  It's less overwhelming.
2. It's easier to fit spending requirements into your usual spending patterns. 
In other words instead of frontloading $10,000 of spending into one months time, you can chip away thousand here, and a thousand there at a leisurely pace.
And
3. You can jump on the best offers whenever they happen to appear.
This is probably the most important point. Often times the best offers appear for just a day or two, like the 75,000 Membership Reward Point American Express Gold Business Card bonus offer of last year.
Unless you get lucky, it's unlikely that you'll be at the perfect point in your churn cycle take advantage of such offers when they next appear.
So it's easy to understand why the argument that Scott makes is an appealing one.
But I'm just not sure that I buy it.
When I look at my credit score plot since I started churning, it shows a relatively predictable pattern. About a month after my churn the credit score drops by substantial amount (although the drop seems to be getting smaller and smaller…)and then a month later it's almost back to normal, and in two months later it is back to normal.(Just in time for my next churn.)


So I worry that doing a couple card applications every month would lead to a slow spiral downwards where your credit score would just keep on going down and down and down and never have a chance to fully recover.
But I don't know. Scott's hypothesis is certainly worthy of further study…..
And the final morsel but I wanted to bring up has to do with churning for two.
In any travel hacking marriage, there's bound to be one spouse who is more "game" (or "insane", depends on your perspective) when it comes to pursuing miles.  Needless to say I'm the fanatic in my marriage, though my wife is far from unsupportive.
As such, I Handle the details of all of my wife's and my credit card churns.
So the question you may have is how do we deal with all of the reconsideration calls for her accounts?
And my approach is pretty simple. I call up the credit card company and tell them that I am my wife's husband and ask if they would like to get consent for me to speak to them regarding her application. They invariably say yes and ask my wife a few questions and then I deal with the rest of the call.
The chief advantage of such an approach is that I don't have to lie, which makes it completely un-stressful, and only little bit of extra hassle.
But the hourly wages of travel hacking are superior to those of a highly trained physician, so I don't mind a little bit of hassle here and there. My time is not that valuable.  And besides, It's kind of fun.