Forgive me, This will be a bits and pieces post.
There will be no philosophical nuggets, or new miles game angles.
I'm wrapping up (I hope) four days of a nasty little enterovirus infection which of late has limited my diet to white rice and saltines, and my weekend activity to febrile napping and visiting the washroom.
Having a minor illness always reminds me of some important truths that I promptly forget once I get better so I will document them for all humanity here.
1. Being in good health is highly underrated. 
When my body doesn't feel right, Reading, thinking, eating, even paying attention to loved ones all seem to become Herculean tasks.
2. Because of number one, I should be more obsessed than I am with maintaining good health.
I'm happy I improved my diet this year. But there's certainly more work to do. Next up, working on exercising more. And then the really hard one. Sleep.
3. As important as money is. And it is very important. Without a healthy body it does not mean so much.
Now that that's out of the way, here is a really great bit of writing about money!
This is from author Grog at the bogleheads forum, which you should check out if you haven't already.
And it deals with an interesting tactic called "barbelling," which is a clever way of combining very high-risk assets with very low risk assets in order to get a third asset that has identical risk and higher return, or identical return and lower risk, when compared to a moderate-risk asset.
The next item on the agenda is miles game related.
With every week that goes by this flowchart becomes more and more obsolete.
Credit card purchased Vanilla Reloads are no more at CVS, And apparently you can no longer load vanilla brand Visa cards onto your Bluebird at Walmart anymore.
(For the details on this latest development see this post from Frequent Miler.)
I guess I had lucky timing in making the switch to Isis Serve.
And the final item is almost antithetical to this blog, and everything that I stand for.
It's no secret that I am pro not having a TV.
But tomorrow night I will be dragging ours up from the basement and hooking the digital bunny ears onto it.
And the reason is my friend Noah.
Noah is my best friend from med school who is a world-class rock climber and an altogether great guy.
It seems he will be competing on American Ninja Warrior on NBC tomorrow night.
To spark interest in my fellow family members I showed my four-year-old son Kota this picture and told him that I was friends with a Jewish superhero: Goldman.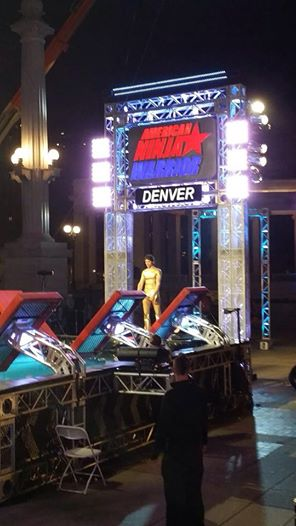 Kota's new hero is a Jewish Ninja
I have no doubt Noah will excel in this competition. He's a talented dude. I mean, just look what he can do on a slack line.
So this may well be the last time I say it; Turn your TV on tomorrow night if you have one. Tune into NBC to watch American ninja warrior. Root for Noah. He's one of the good guys. ( Just ask Kota.)