One of the nice things about the miles game is that credit card companies usually waive the first year fee associated with the credit card bonus.This means that with a little bit of elbow grease, a touch of organization, and a can-do attitude, you can rack up literally hundreds of thousands if not millions of miles every year for the low, low, price of free.
This of course raises a number of questions. Such as;
1. Q: If I cancel my card before the yearly fee comes up will they take away my miles?
A:  The answer here is that it depends.
If your card issuer is transferring miles to a separate agency such as an airline or a hotel chain, then the answer is no. The miles/points have become a contract between you and the loyalty program. They are now subject only to the terms and conditions of that loyalty program.
If on the other hand the card issuer is giving you a stash of card specific points, (think flexible points like Ultimate Rewards Points, Membership Rewards Points, or Starpoints) then if you cancel your card and do not have another equivalent card that can hold those points, the points will vanish into thin air.
2. Q: When is the best time to cancel my card?
A:  The sweet spot is 9 to 10 months after you've been approved for the card.
This allows you to call up the card company and announce that you're going to cancel your card. At that point, particularly if you've put significant spend on the card, the agent will likely offer you a retention bonus.
These bonuses can be anything from the waiving the annual fee to a lump sum gift of miles.
Before having this conversation you should have an idea in your mind of what the amount of miles is at which point the annual fee becomes worth paying. Knowing this will allow you to make a rational snap decision on the spot when good offer comes your way (or doesn't.)
Some have even advocated for accepting the retention bonus, meeting its requirements, collecting the prize and then canceling the card prior to paying the annual fee. Each individual miles game player must square this temptation with his or her own moral code.
3. Q: Is it ever a good idea to pay the yearly fee and keep the card?
A:  Of course. The first obvious instance where this is true is if the card pays for itself.
Take for example the Blue Cash preferred card from American Express. This card gives you a whopping 6% cashback on $ 6000 of spend per year at supermarkets. So if you meet this threshold with either manufactured spend or actual spend, that's $360 in your pocket. Last time I checked $360 is greater than $75 (the annual fee.)
Another obvious reason to keep your card is if you need it to hold onto your stash of earned miles. If you have 150,000 ultimate rewards points in your account and you're considering canceling your associated Chase Ink card then there are really two options for you prior to cancellation.
You can either transfer the Ultimate Rewards Points to a partner airline or hotel (at which point they immediately lose some of their value,) or you can transfer them to another eligible card account (like a second Ink card or a Chase Sapphire Preferred card.)
The final (weak) reason to keep the card is that you just like the card, and want to keep it. If it doesn't pencil out, then I probably would not condone keeping the card for this reason.  No room for nostalgia in The Miles Game.  This is business.
4. Q : If I cancel the card, will I be able to apply again and get the bonus?
A:  It depends on the card.
Cards that can be applied for again and again after canceling, or even sometimes before canceling, are known as "Churnable" cards. (examples include the soon to be extinct US Air card from Barclays.)
"Churnable"is a highly complementary adjective in the world of The Miles Game.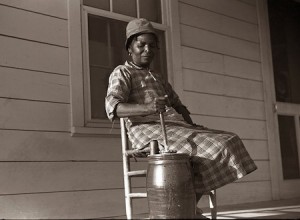 Butter: Definitely Churnable
To figure out if your card is churnable, it is usually easiest to just do a Google search with the name of the card you're interested in and the terms "churnable," and "FlyerTalk," this should get you to a forum thread that discusses the up-to-date information on that particular card.
Q: So at some point do I just cancel my card?
A: Yeah, probably not.
The best option is to roll your current card into a non-fee card from the same credit card company. This achieves two things. First your credit line remains intact. And second, your age of credit will continue to grow indefinitely. Both of these factors are good for your credit score going forward. And your in tact credit line can be leveraged in future reconsideration calls to get approved for shiny new bonus offers from the same card company.
If there's no suitable fee free card option, then you should first roll your credit line into another card from the same company prior to closing the account.
Take home point:  Putting thought into how and when you cancel your credit cards is a value-added proposition.
Please leave any further questions in the comments section.