We've already discussed the value of hotel credit cards.
As I mentioned, however, my hotel strategy, to this point, has not been to include hotel cards in my credit card churns.
But obviously I still need a place to stay when I go on vacation.
So what has my strategy been?
I've focused on value hotel rooms paid for with cash equivalent cards such as the Barclaycard world arrival MasterCard.
And where do I find these value hotel rooms?
Usually by bidding on Priceline.
There is an excellent strategy for Priceline bidding that allows you to work up systematically to get the lowest possible price.
The strategy is well described in this link from milevalue.com. But all means you should check the link out. This is definitely an excellent tool to have in your armamentarium for vacation planning.
There is one main of problem with Priceline, though; the rooms you bid on are nonrefundable once your bid is accepted.
This makes it very difficult to do comparison shopping with a Priceline room and other outlets like booking.com, pointshound.com, or Costco travel.  And it can be frustrating to not know how good of a deal you got until after the fact.
But there's a very neat trick that I originally learned from romsdeals.com, to get around this.
What you do, is instead of using a credit card to secure your bid, you use a debit card with less money on it than the total price of the booking that you have placed a bid on.
(I use a $500 visa gift card with all but one cent long ago loaded onto my bluebird card.)
Then when you make your bid one of two things will happen. Either;
1. You will get a message saying that your bid has not been accepted. And you'll go on bidding up as per usual.
Or,
2. You will get a message that says that there's a problem with your credit card and that you should contact your bank. (This means that Priceline tried to accept your offer and charge your card but was unable to do so. )
Importantly, they also give you the opportunity to enter in a different credit card to rebid at the same level.
So now you know the Priceline auction price on a specific class of hotel, in a specific set of neighborhoods, in a specific city, for a specific date range that you're interested in.
And like any rational economic actor, you may now compare that price to other published prices online and secure the best deal.
The Priceline price is usually the best.
(In the comments section, Nathan reports similar success just putting in the wrong 3 digit security code for your credit card when filling out your bid on priceline.  Even simpler,  and I can now confirm it worked for me.)
I used this method tonight to book a hotel for my family and my in-laws for our upcoming vacation to Maui.
We got two rooms at the Westin Kanapaali Resort And Spa for seven nights, for $3560.20 all in.
The cheapest comp I got for this hotel for the same dates was for $4950.00 at Costco travel. (or $5304.50 with a rental car. )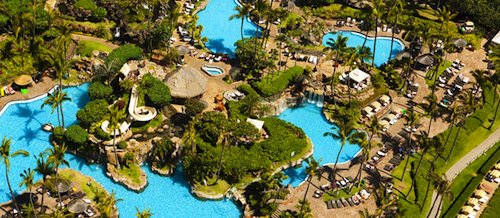 Westin Maui. Value Booking. No?
The other site that I will sometimes use for a last-minute hotel bookings, is hoteltonight.com. Great prices, but useful only for same-day bookings.
Do you have any favorite tips for booking hotels and getting value?  Fell free to share the riches.  Don't worry it'll be our secret.